Robert Schumann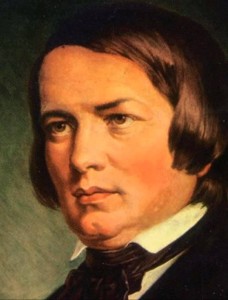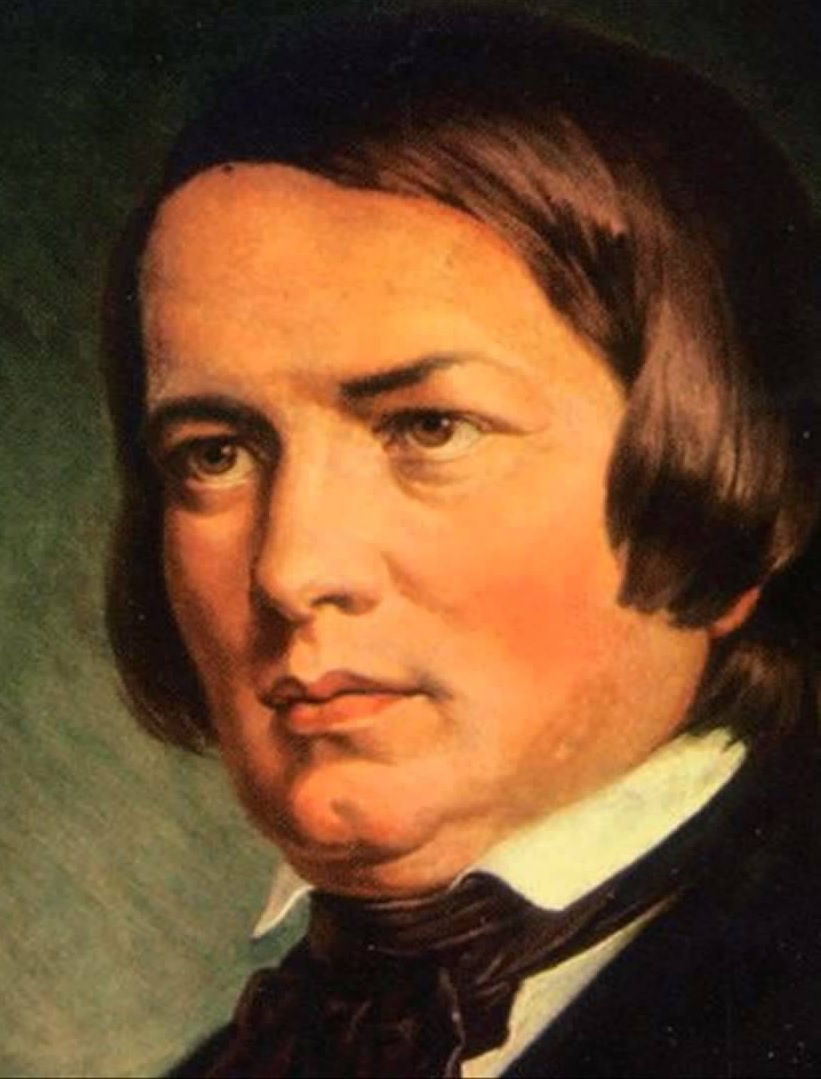 Robert Schumann (8 June 1810 – 29 July 1856) was a German composer and influential music critic. He is widely regarded as one of the greatest composers of the Romantic era. Schumann left the study of law, intending to pursue a career as a virtuoso pianist. He had been assured by his teacher Friedrich Wieck that he could become the finest pianist in Europe, but a hand injury ended this dream. Schumann then focused his musical energies on composing.
Schumann's published compositions were written exclusively for the piano until 1840; he later composed works for piano and orchestra; many Lieder (songs for voice and piano); four symphonies; an opera; and other orchestral, choral, and chamber works.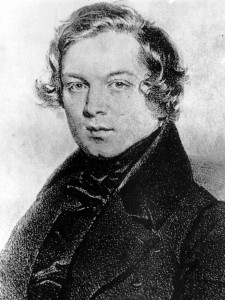 Works such as Carnaval, Symphonic Studies, Kinderszenen, Kreisleriana, and the Fantasie in C are among his most famous. His writings about music appeared mostly in the Neue Zeitschrift für Musik (New Journal for Music), a Leipzig-based publication which he jointly founded. He wrote many of the articles himself, using the pseudonyms Florestan and Eusebius.
In 1840, Schumann married Friedrich Wieck's daughter Clara, against the wishes of her father, following a long and acrimonious legal battle, which ended in favor of Clara and Robert. Clara also composed music and had a considerable concert career as a pianist, the earnings from which, before her marriage, formed a substantial part of her father's fortune.
Although Schumann was no child prodigy, he went on to become one of the most important composers of the 19th century and is recognized as such 200 years after his birth.
Schumann's early musical progress was unremarkable. He was 10 before he began piano lessons and, despite his increasing enthusiasm for composition and a passion for Romantic literature, he toed the family line by enrolling as a law student at Leipzig University.
After an ailment in his right hand proved incurable, Schumann was forced to concentrate solely on composition.
In just four months Schumann composed five of the most treasured of all song cycles – the two Liederkreis collections (Opp. 23 and 39), Dichterliebe, Myrthen and Frauenliebe und-Lieben – as part of a remarkable outpouring of more than 140 songs.
Schumann then turned his attention to multi-instrumental composition, producing the Piano Concerto, Piano Quintet and Symphonies Nos. 1, 2 and 4.
Following the Cello Concerto and Rhenish Symphony (both 1850), there was a marked decline in Schumann's creative powers and his ability to keep a hold on reality.
He met the young Brahms and predicted a successful future for him, but time was slipping away. Following a paralytic attack, which left his speech impaired, his hallucinatory periods increased in intensity and he attempted to drown himself in the Rhine.
He spent the last two years of his life in an asylum where his condition gradually worsened. He finally succumbed on 29 July 1856.
Symphony No. 1 in B-flat major, Op. 38
This symphony – also known as the Spring Symphony – is the first symphonic work composed by Robert Schumann. Although he had made some "symphonic attempts" in the autumn of 1840 soon after he married Clara Wieck, he did not compose his First Symphony until early 1841. Schumann sketched the symphony in four days from 23 to 26 January and completed the orchestration by 20 February. The premiere took place under the baton of Felix Mendelssohn on 31 March 1841 in Leipzig, where the symphony was warmly received.
The symphony has four movements:
1. Andante un poco maestoso – Allegro molto vivace (B flat major)
2. Larghetto (E flat major)
3. Scherzo: Molto vivace – Trio I: Molto piu vivace – Trio II (G minor)
4. Allegro animato e grazioso (B flat major)
In the video the symphony is performed by the Buchmann-Mehta School of Music Symphony Orchestra conducted by Zubin Mehta.
Symphony No 2 in C major, Op 61
Schumann began to sketch the symphony on December 12, 1845, and had a robust draft of the entire work by December 28. He spent most of the next year orchestrating, beginning February 12, 1846. His depression and poor health, including ringing in his ears, prevented him finishing the work until October 19. Publication followed in 1847.
The four movements are:
1. Sostenuto assai — Allegro, ma non troppo
2. Scherzo. Allegro vivace
3. Adagio espressivo
4. Allegro molto vivace
In the video the symphony is performed by WDR Symphony Orchestra Cologne conducted by Semyon Bychkov.
Symphony No. 3 in E-flat major, Op. 97
This symphony – also known as the Rhenish – is the last symphony composed by Robert Schumann, although not the last published. It was composed from 2 November to 9 December 1850.
The symphony has five movements:
1. Lebhaft
2. Scherzo. Sehr mäßig (in C major)
3. Nicht schnell (in A-flat major)
4. Feierlich (in E-flat minor)
5. Lebhaft
In the following recording the symphony is performed in the Alte Oper in Frankfurt by the hr-Sinfonieorchester (Frankfurt Radio Symphony) conducted by Marek Janowski.·
Symphony No. 4 in D minor, Op. 120
This was first completed in 1841. Schumann heavily revised the symphony in 1851, and it was this version that reached publication.
The symphony has four movements:
1. First Movement – Ziemlich langsam – Lebhaft
2. Second Movement – Romanze: Ziemlich langsam
3. Third Movement – Scherzo: Lebhaft
4. Fourth Movement – Langsam; Lebhaft
The following recording is made with the Berlin Philharmonic Orchestra conducted by Wilhelm Furtwängler. Even if this is an old recording from 1953, I think it is by far the best performance of the symphony. The tempo and balance between the various instruments is perfect. Many modern recordings are performed with a much too hasty tempo and often disregard the delicate balance that should exist between the various instrument groups.
Furtwängler gives the violin solo (first time at 13.56) sufficient prominence in the prescribed slow tempo in the second movement. In the third movement the long notes (first time at 17.19) are kept their full duration as they should – producing the full harmonic sound.
Piano Concerto in A minor, Op. 54
This romantic concerto was in 1845. The work premiered in Leipzig on 1 January 1846 with Clara Schumann playing the solo part.
The concerto is in three movements:
1. Allegro affettuoso (A minor)
2. Intermezzo: Andantino grazioso (F major)
3. Allegro vivace (A major)
In the video the concerto is performed by pianist virtuoso Khatia Buniatishvili and the Frankfurt Radio Symphony Orchestra conducted by Paavo Järvi.
The performance took place in Wiesbaden Kurhaus, Germany, 23. August 2012.
The Cello Concerto in A minor, Op. 129
This concerto was completed in a period of only two weeks, between 10 October and 24 October 1850, shortly after Schumann became the music director at Düsseldorf.
The piece is in three movements, which follow on from each other without a pause:
1. Nicht zu schnell (A minor)
2. Langsam (F major)
3. Sehr lebhaft (A minor – A major)
In the video the concerto is performed by cellist Andreas Brantelid with the Radio Kamer Filharmonie conducted by Michael Schønwandt. The performance took place the 13th of January 2013, in the Concertgebouw building in Amsterdam, Holland.