Franz Schubert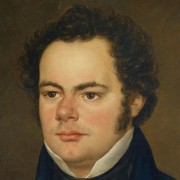 Franz Peter Schubert (31 January 1797 – 19 November 1828) was an Austrian composer who died at 31 but was extremely prolific during his lifetime. His output consists of over six hundred secular vocal works (mainly Lieder), seven complete symphonies, sacred music, operas, incidental music and a large body of chamber and piano music. Appreciation of his music while he was alive was limited to a relatively small circle of admirers in Vienna, but interest in his work increased significantly in the decades following his death. Felix Mendelssohn, Robert Schumann, Franz Liszt, Johannes Brahms and other 19th-century composers discovered and championed his works.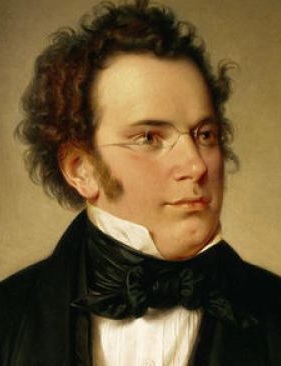 Today, Schubert is ranked among the greatest composers of the late Classical era and early Romantic era and is one of the most frequently performed composers of the early nineteenth century.
Aged 10, the young Schubert won a place in the Vienna Imperial Court chapel choir and quickly gained a reputation as a budding composer with a set of facile string quartets.
After leaving chapel school and having completed the year's mandatory training, Schubert followed his father into the teaching profession. This was at once a calamitous move and a blessing, for it was Schubert's deep loathing of the school environment that finally lit the touchpaper of his creative genius. The same year he began teaching – 1814 – he produced his first indisputable masterpiece, 'Gretchen am Spinnrade' ('Gretchen at her spinning wheel').
At the age of 18 while he was still struggling to hold down his full-time teaching post, he not only composed 145 lieder (songs) – including the unforgettable 'Erlkonig' – the Second and Third Symphonies, two sonatas and a series of miniatures for solo piano, two mass settings and other shorter choral works, four stage works, and a string quartet, in addition to various other projects. This period of intense creative activity remains one of the most inexplicable feats of productivity in musical history.
Musical soirees known as Schubertiads became all the rage, during which Schubert might sing some of his own songs while accompanying himself at the piano.
With little money and nothing much more than his 'groupies' to support him, Schubert began to produce a seemingly endless stream of masterpieces that for the most part were left to prosperity to discover, including the two great song cycles, Die Schone Mullerin and Winterreise, the Eighth ('Unfinished') and Ninth ('Great') Symphonies, the Octet for Wind, the last three string quartets, the two piano trios, the String Quintet, the 'Wanderer' Fantasy and the last six sonatas for solo piano.
Symphony No. 4 in C minor, D. 417
This symphony, commonly called the Tragic, was composed in April 1816 when Schubert was 19 years old. However, the work was premiered only on November 19, 1849, in Leipzig, more than two decades after Schubert's death. The title Tragic is Schubert's own. It was added to the autograph manuscript some time after the work was completed. It is not known exactly why he added the title, but the work is one of only two symphonies (the Unfinished Symphony is the other) which Schubert wrote in a minor key.
There are 4 movements:
1. Adagio molto – Allegro vivace
2. Andante in A flat major
3. Menuetto. Allegro vivace – Trio
4. Allegro
In the video the symphony is performed by the Orchestre de Paris conducted by Louis Langrée.
Symphony No. 5 in B flat major, D. 485
This was completed on October 3, 1816 – six months after the completion of his previous symphony.
In character, the writing is often said to resemble Mozart; Schubert was infatuated with the composer at the time he composed it. This is reflected particularly in the lighter instrumentation. Indeed, the instrumentation matches that of the first version (without clarinets) of Mozart's 40th symphony.[
There are four movements:
Allegro
Andante con moto
Menuetto. Allegro molto – Trio
Allegro vivace
In the video the symphony is performed by Les Musiciens du Louvre conducted by Marc Minkowski.
Symphony No. 6 in C major, D. 589
This was composed between October 1817 and February 1818. Its first public performance was in Vienna in 1828. It is nicknamed the "Little C major" to distinguish it from his later Ninth Symphony, in the same key, which is known as the "Great C major".
There are four movements:
Adagio, – Allegro
Andante
Scherzo: Presto; Trio: Piu lento
Allegro moderato
Here the symphony is performed by Staatskapelle Dresden conducted by Herbert Blomstedt.
Symfoni No. 7 in E major, D. 729
This was drafted in August 1821. Although the work (which comprises about 1350 bars is structurally complete, Schubert only orchestrated the slow introduction and the first 110 bars of the first movement. The rest of the work is, however, continued on 14-stave score pages as a melodic line with occasional basses or counterpoints, giving clues as to changes in orchestral texture.
There are 4 movements:
1 Adagio Allegro
2 Andante
3 Scherzo. Trio
4 Allegro giusto
In the video the symphony is performed by Deutsches Symphonie-Orchester Berlin conducted by Vladimir Ashkenazy.
Symphony No. 8 in B minor, D.759
This is commonly known as the "Unfinished Symphony". It is a work that Schubert started in 1822 but left with only two movements—though Schubert lived for another six years. A scherzo, nearly completed in piano score but with only two pages orchestrated, also survives.
The two movements are:
Allegro moderato in B minor
Andante con moto in E major
In the video the symphony is performed by Chicago Symphony Orchestra conducted by Sir Georg Solti.
Symphony No. 9 in C major, D. 944
This symphony is known as the Great. It is the final symphony completed by Franz Schubert. Originally called The Great C major to distinguish it from his Symphony No. 6, the Little C major,
There are four movements:
1 Andante – Allegro ma non troppo
2 Andante con moto
3 Scherzo. Allegro vivace – Trio
4 Finale. Allegro vivace
In the video the symphony is performed by the Vienna Philharmonic Orchestra conducted by John Eliot Gardiner.