Dmitri Shostakovich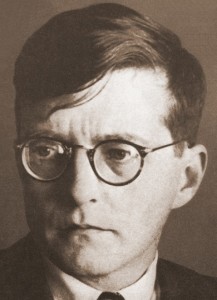 Dmitri Dmitriyevich Shostakovich (25 September 1906 – 9 August 1975) was a prominent Soviet composer and pianist. Being a child prodigy he became one of the most celebrated composers of the 20th century.
Shostakovich combined a variety of different musical techniques into his music, which is characterized by sharp contrasts, elements of the grotesque, and ambivalent tonality; the composer was also heavily influenced by the neo-classical style pioneered by Igor Stravinsky, and by the post-Romanticism associated with Gustav Mahler.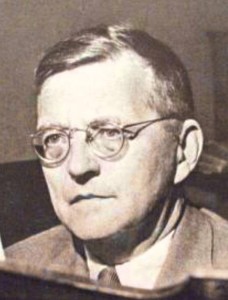 Shostakovich's orchestral works include 15 symphonies and six concerti. His chamber output includes 15 string quartets, a piano quintet, two piano trios, and two pieces for string octet. His solo piano works include two sonatas, an early set of preludes, and a later set of 24 preludes and fugues. Other works include three operas, several song cycles, ballets, and a substantial quantity of film music; especially well known is The Second Waltz, Op. 99, music to the film The First Echelon (ru) (1955–1956), as well as the suites of music composed for The Gadfly
Many artists have claimed to be products of the Bolshevik Revolution, but Dmitri Shostakovich stands alone in level of celebrity and artistic achievement.
The best-known composer of the Soviet era was born in St. Petersburg to a cultured family that sided with left-wing political groups. His paternal grandfather, Boleslav Shostakovich, was active as a revolutionary in the 1860s, while his father, Dmitri Boleslavovich, was a government engineer who supported trade unions. His mother, Sofia Vassilyevna, was a piano teacher who gave Dmitri Dmitrievich his first lessons at age eight before he entered the Petrograd Conservatory at thirteen. He then received training in piano from Leonid Nikolayev, training in composition from Maximilian Steinberg, and encouragement from conservatory headsman Alexander Glazunov, himself a notable composer. Shostakovich was considered promising by the conservatory staff; he was active as a student composer and wrote his First Symphony as a graduation piece in 1925. It was so impressive a work that it premiered in Leningrad, Berlin, and Philadelphia, vaulting Shostakovich to the forefront of Soviet art.
Russia's new Leninist government recognized Shostakovich as a valuable political tool. During the 1920s, the Soviet cultural bureau was eager to set new trends and provided him with commissions for the concert hall and stage. By the early 1930s, however, Shostakovich's avant-garde forms, brash harmonies, and sarcastic idioms brought him into disfavor with the regime then headed by Stalin. Although popular amongst Russian audiences, he was forced to suppress new works and remove others from the active repertoire.
For the remainder of his life, Shostakovich bore the weight of a hypocritical order that threatened to destroy his life while at the same time decorating him with awards and promoting him abroad as the Revolution's musical prodigy. As he grew increasingly famous worldwide, the physical and mental strains he suffered were great. Shostakovich's support for Leninism, if leading biographies are accurate, had already dwindled while in childhood.
He witnessed the bloodshed of the 1917 Revolution first-hand, was malnourished in its succeeding years, and worked exhausting hours as a silent movie pianist after school to help family ends meet in the post-Revolutionary economy. His father had died in 1922 and the once comfortable Shostakovich family thereafter struggled in Russia's new social order.
The severe restrictions placed on art by Stalin and Khrushchev also helped cause Shostakovich to become disillusioned. Always afraid of official condemnation, he followed the leads of Ludwig van Beethoven, Piotr Ilyitch Tchaikovsky, and Modest Mussorgsky by writing music with profound themes buried underneath dominant themes of a banal nature and completely opposite sentiment.
For his political safety, Shostakovich managed to keep his own voice while complying with the government's policy of "socialist realism" – art depicting the triumph of Leninism and the complete, if contrived, optimism of Soviet life. Still, Shostakovich was disciplined by the cultural authorities on several occasions, particularly when all of the USSR's leading composers, including Serge Prokofiev, Aram Khachaturian, and Nicolai Myaskovsky, were denounced for "formalism," or decadent avant-gardism, in 1948; this coming after a period of war when artists had greater creative freedoms.
During the post-war era, Shostakovich bravely retained his fame and position as a social commentator. His output was high until the last five years of his life, when severe physical problems began to limit his movement. By that time, however, his works were already destined for immortality. He had been named First Secretary of the Soviet Composers Union, albeit against his will, and received numerous awards from both the Soviet government and organizations abroad, including the Lenin Prize, the Hero of Socialist Labor medal, and an honorary doctorate from Oxford University. And most importantly, his music was being played by orchestras and radio stations worldwide. In a strange sort of way, Shostakovich became a figure of artistic wisdom after years as an Enemy of the People.
Shostakovich's music, a collection of works providing the landscape of a torn man, is baldly Russian in style, yet diverse. It contains memorable themes stemming from Russian folk and popular song, jazz, and the traditions of Johann Sebastian Bach. As the musical voice of Soviet life, his output is extensive, having written 15 symphonies, 15 string quartets, various other chamber works, concerti, song cycles, solo piano pieces, operas, ballets, and film scores, the last of which provided a decent income while on thin political ice.
His 5th Symphony (premiered 1937), ironically subtitled "A Soviet Artist's Response to Just Criticism," was hailed by bureaucrats and audiences alike, and remains his most popular work; it was the first symphony purely "Soviet" in style. Also noteworthy are his 4th Symphony (premiered 1962), which he kept from performance for almost 30 years; Symphony #7 (Leningrad, 1942), a massive work dedicated to his home city and its resistance to the Nazi invasion; Symphony #8 (1943); Symphony #10 (1953), considered his best-written symphony; Symphony #11 (The Year 1905, 1957); and Symphony #14 (1969), a setting of death poetry including Lorca and Apollonaire.
Shostakovich's opera Lady Macbeth of Mtsensk District (1934), after a naturalistic story by Leskov, initially brought difficulties with Stalin but is of considerable renown today. His ballets The Golden Age (1930), Bolt (1931), and The Limpid Brook (1935) are witty.
Shostakovich's earlier works make use of the Mahlerian orchestra, but as he grew older and more reflective about life's possibilities, he used the chamber scale a greater deal. Most notable from his chamber catalogue are the Piano Quintet (1940), Piano Trio #1 (1943), String Quartet #8 (1960), and String Quartet #15 (1974), all bright mirrors of Shostakovich's psyche.
Shostakovich died on August 9, 1975, in Moscow. He was given a state burial and recognized by the world press as an outstanding composer of our time. Unlike other Soviet composers who benefited from political fortune rather than artistic merit, Shostakovich remains an international phenomenon whose music is performed constantly. His commitment to inspiring listeners holds true, even after monkey-wrenching by politicians who value conformity over self-expression.

–
–
–
–
–
Symphony No. 4 in C minor, Opus 43
This symphony was composed between September 1935 and May 1936, after abandoning some preliminary sketch material. In January 1936, halfway through this period, Pravda—under direct orders from Joseph Stalin—published an editorial "Muddle Instead of Music" that denounced the composer and targeted his opera Lady Macbeth of Mtsensk. Despite this attack, and despite the oppressive political climate of the time, Shostakovich completed the symphony and planned its premiere for December 1936 in Leningrad. At some point during rehearsals he changed his mind and withdrew the work. It was only premiered on 30 December 1961 by the Moscow Philharmonic Orchestra led by Kirill Kondrashin.
The symphony has three movements:
1. Allegretto, poco moderato – Presto (00:00)
2. Moderato, con moto (27:33)
3. Largo – Allegro (36:40)
In the video the symphony is performed by the European Union Youth Orchestra at a concert at the Grafenegg Festival on 9 August 2014. Conductor is Vasily Petrenko.
–
–
–
Symphony No. 5 in D minor, Op. 47
This work for orchestra was composed between April and July 1937. Its first performance was on November 21, 1937, in Leningrad by the Leningrad Philharmonic Orchestra under Yevgeny Mravinsky. The premiere was a huge success, and received an ovation that lasted well over half an hour. The symphony has four movements:
Moderato—Allegro non troppo
Allegretto
Largo
Allegro non troppo
In the video the symphony is performed by Gustav Mahler Jugendorchester conducted by Philippe Jordan.
–
–
–
Symphony No. 6 in B minor, Op. 54
This was written in 1939, and first performed in Leningrad on 21 November 1939 by the Leningrad Philharmonic Orchestra under Yevgeny Mravinsky. Music of a contemplative and lyrical order predominates to convey the moods of spring, joy and youth. There are three movements:
Largo
Allegro
Presto
In the video the symphony is performed by the Vienna Philharmonic Orchestra canducted by Leonard Bernstein.
–
–
–
Symphony No. 7 in C major, Op. 60 (Leningrad)
This symphony was written c. 1939–40. Initially dedicated to the life and deeds of Vladimir Lenin, Shostakovich decided instead to dedicate the symphony to the city of Leningrad on its completion in December 1941. The work remains one of Shostakovich's best-known compositions.
The piece soon became very popular in both the Soviet Union and the West as a symbol of resistance to Nazi totalitarianism and militarism. It is still regarded as the major musical testament of the estimated 25 million Soviet citizens who lost their lives in World War II. The symphony is played frequently at the Leningrad Cemetery, where half a million victims of the 900-day Siege of Leningrad are buried. As a condemnation of the German invasion of the Soviet Union, the work is particularly representative of the political responsibilities that Shostakovich felt he had for the state, regardless of the conflicts and criticisms he faced throughout his career with Soviet censors and Joseph Stalin. The symphony has four movements:
I. Allegretto
II. Moderato (poco allegretto)
III. Adagio — Largo — Moderato risoluto — Largo — Adagio
IV. Allegro non troppo
In the video the symphony is performed by the hr-Sinfonieorchester (Frankfurt Radio Symphony Orchestra) conducted by Marin Alsop at a live concert at the Alte Oper Frankfurt, 11 April, 2014.
–
–
–
Symphony no. 8 in C minor, Opus 65
This symphony was written in the summer of 1943, and first performed on November 4 of that year by the USSR Symphony Orchestra under Yevgeny Mravinsky, to whom the work is dedicated.
The symphony does not appear on concert programs very often, yet many recent scholars have ranked it among the composer's finest scores. Although some have argued that the work falls within the tradition of other C minor "tragedy to triumph" symphonies, such as Beethoven's Fifth, Brahms' First, Bruckner's Eighth, and Mahler's Second, there is considerable disagreement over the level of optimism present in the final pages. Shostakovich's friend Isaak Glikman called this symphony "his most tragic work". The work, like many of his symphonies, breaks some of the standard conventions of symphonic form and structure. Shostakovich clearly references themes, rhythms and harmonies from his previous symphonies, most notably his Fifth Symphony and his Seventh Symphony. There are five movements:
I Adagio — Allegro non troppo
II Allegretto
III Allegro non troppo
IV Largo
V Allegretto
In the video the symphony is performed by the State Youth Orchestra of Armenia conducted by Sergey Smbatyan.
–
–
–
Symphony No. 10 in E minor, Op. 93
This was premiered by the Leningrad Philharmonic Orchestra under Yevgeny Mravinsky on 17 December 1953, following the death of Joseph Stalin in March of that year. It is not clear when it was written: according to the composer's letters composition was between July and October 1953, but Tatiana Nikolayeva stated that it was completed in 1951. Sketches for some of the material date from 1946. The symphony has four movements:
Moderato
Allegro
Allegretto – Largo – Piú mosso
Andante – Allegro – L'istesso tempo
In the video the symphony is performed by the Simon Bolivar Youth Orchestra of Venezuela conducted by Gustavo Dudamel.
–
–
–
Symphony No. 11 in G minor, Op. 103 – "The Year 1905"
This was was written in 1957 and premiered, by the USSR Symphony Orchestra under Natan Rakhlin, on 30 October 1957. The subtitle of the symphony refers to the events of the Russian Revolution of 1905. The symphony was conceived as a popular piece and proved an instant success in Russia—his greatest, in fact, since the Leningrad Symphony fifteen years earlier. The work's popular success, as well as its earning him a Lenin Prize in April 1958, marked the composer's formal rehabilitation from the Zhdanov Doctrine of 1948.
The symphony has four movements played without break:
Adagio (The Palace Square)
Allegro (The 9th of January)
Adagio (Eternal Memory)
Allegro non troppo (Tocsin)
In the video the symphony is performed by BBC National Orchestra of Wales conducted by Thomas Søndergård.
–
–
–
Symphony No. 15 in A major, Op. 141
This last symphony was written in a little over a month during the summer of 1971 in Repino. It was first performed in Moscow on 8 January 1972 by the All-Union Radio and Television Symphony Orchestra under Maxim Shostakovich. The work has four movements, the middle two being played without interruption:
Allegretto
Adagio – Largo – Adagio – Largo
Allegretto
Adagio – Allegretto – Adagio – Allegretto
In the video the symphony is performed by the Royal Concertgebouw Orchestra conducted by Bernard Haitink.
–
–
–
Piano Concerto No. 2 in F major, Op. 102
This was composed in 1957 for his son Maxim's 19th birthday. Maxim premiered the piece during his graduation at the Moscow Conservatory. It is an uncharacteristically cheerful piece, much more so than most of Shostakovich's works. The concerto has three movements, with the second movement played attacca, thereby moving directly into the third:
Allegro
Andante
Allegro
In the video the concerto is performed by pianist virtuoso Cristina Ortiz with the Orchestra della Svizzera Italiana conducted by Rumon Gamba.
Here is another performance of the concerto by Leonora Armellini with Orchestra Sperimentale conducted by Federico Marchionda.
–
–
–
Cello Concerto No. 1 in E-flat major, Op. 107
This was composed for Shostakovich's friend Mstislav Rostropovich, who committed it to memory in four days and gave the premiere on October 4, 1959, with Yevgeny Mravinsky conducting the Leningrad Philharmonic Orchestra in the Large Hall of the Leningrad Conservatory. The first recording was made in two days following the premiere by Rostropovich and the Moscow Philharmonic, under the baton of Aleksandr Gauk.The work has four movements in two sections, with movements two through four played without a pause:
Allegretto
Moderato
Cadenza – Attacca
Allegro con moto
In the video the concerto is played by Sol Gabetta with Orquesta Sinfónica de RTVE conducted by Carlos Kalmar.
–
–
–
Festive Overture in A Major, Op.96
This was written in three days to commemorate the 37th anniversary of the October Revolution. The overture featured in the 1980 Summer Olympics in Moscow and the 2009 Nobel Prize concert.
In the video the overture is performed by the KBS (Korean Broadcasting System) Symphony Orchestra conducted by Hahm Shin-Ik.
The second waltz, Op. 99
This music was for the Soviet feature film "The First Echelon" (1955).
Romance from the Gadfly Suite Op. 97a
The suite was composed for the Gadfly, which is a 1955 Soviet drama film based on the novel by Ethel Lilian Voynich.