Ludwig van Beethoven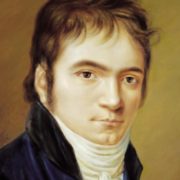 Ludwig van Beethoven (17 December 1770 – 26 March 1827) was a German composer and pianist. A crucial figure in the transition between the Classical and Romantic eras in Western art music, he remains one of the most famous and influential of all composers. His best-known compositions include 9 symphonies, 5 concertos for piano, a violin concerto, 32 piano sonatas, and 16 string quartets. He also composed other chamber music, choral works and songs.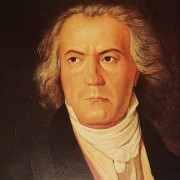 Beethoven was the second-oldest child of the court musician and tenor singer Johann van Beethoven in Bonn. Ludwig's father had the ambition of showcasing his son as a child prodigy. Ludwig gave his first public performance as a pianist when he was eight years old. At the age of eleven he received the necessary systematic training in piano performance and composition from Christian Gottlob Neefe, organist and court musician in Bonn. Employed as a musician in Bonn court orchestra since 1787, Beethoven was granted a paid leave of absence in the early part of 1787 to study in Vienna under Mozart, but he was soon compelled to return to Bonn, and after his mother's death he had to look after the family.
However in 1792 he chose Vienna as his new residence taking lessons from Haydn and Salieri. By 1795 he had earned a name for himself as a pianist of great fantasy, admired in particular for his brilliant improvisations. Before long he was traveling in the circles of the nobility. They offered Beethoven their patronage, and the composer dedicated his works to them in return. By 1809 his patrons provided him with an annuity which enabled him to live as a freelance composer without financial worries. Beethoven was acutely interested in the development of the piano. He kept close contact with the leading piano building firms in Vienna and London and thus helped pave the way for the modern concert grand piano.