Johannes Brahms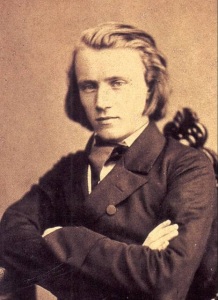 The German composer and pianist Johannes Brahms (7 May 1833 – 3 April 1897) composed music for piano, chamber ensembles, symphony orchestra, and for voice and chorus. A virtuoso pianist, he premiered many of his own works. He was an uncompromising perfectionist who destroyed some of his works and left others unpublished.
Brahms created new bold approaches to harmony and melody and he was a master of counterpoint. Among the works he created, the four symphonies and the two piano concerts are among the most played in our time.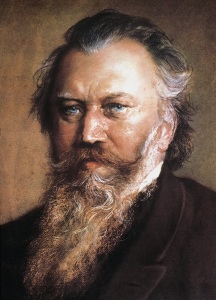 Brahms has been considered, by his contemporaries and by later writers, as both a traditionalist and an innovator. His music is firmly rooted in the structures and compositional techniques of the Classical masters. While many contemporaries found his music too academic, his contribution and craftsmanship have been admired by subsequent figures as diverse as Arnold Schoenberg and Edward Elgar.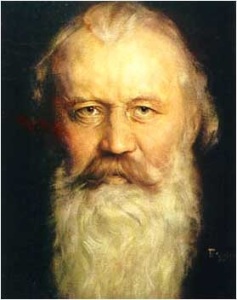 The diligent, highly constructed nature of Brahms's works was a starting point and an inspiration for a generation of composers. Within his meticulous structures is embedded, however, a highly romantic nature.
Brahms' father, Jokob, found employment as a jobbing musician, mostly getting work from playing the double bass and the French horn.
The young Brahms was forced to play the piano in dance halls to contribute to the family's income as they were so poor.
An early starter, Brahms began composing when he was just 11. However, when he was older, he found them a bit embarrassing and destroyed the majority of them.
Robert Schumann was so impressed with Brahms' talent when they met that he was inspired to write an essay entitled 'Neue Bahnen' ('New Paths') which gave Brahms a lot of publicity.
Brahms met a Hungarian refugee and violinist by the name of Eduard Remenyi in 1850, and was introduced to a whole range of folk and gypsy music that massively influenced his composing style.
Although Brahms began composing his first symphony in 1854, it wasn't premiered until November 1876, 22 years later. The whole piece underwent severe edits until he was completely happy with it.
When Schumann died in 1856, Brahms immediately went to Düsseldorf to be with Schumann's wife, Clara.
The so-called War of the Romantics was basically a musical argument between composers like Wagner and Liszt, who represented a more radical approach to music, and more conservative artists like Brahms and Clara Schumann. As a result, Brahms has always been seen as something of an old-fashioned composer, despite still being extremely popular today.
Brahms was very much an outdoors sort. When he wasn't travelling around Europe for concert tours, he was fond of travelling to the hills of Italy for walking holidays and to retreat for solitary composing.
When his mother died in 1865, Brahms was overcome with grief. It is speculated that this led him to compose his German Requiem, one of the most celebrated works from his career.
When he was 57, Brahms announced that he was finished with composing. However, he was clearly unable to stop his creativity – he produced some incredible late-period works, especially for the clarinet, like his Clarinet Sonatas, Trio and Quintet.
Brahms died of cancer on April 3rd 1897. The British composer Hubert Parry composed a musical tribute to him, his Elegy for Brahms, in the same year.


–
–
–
–
Piano Concerto No. 1 in D minor, Op. 15
This was completed in 1858. The composer gave the work's public debut in Hannover, the following year. It was his first-performed orchestral work, and (in its third performance) his first orchestral work performed to audience approval.
This concerto is written in the traditional three movements
1. Maestoso (D minor) (0.00)
2. Adagio (D major) (24:06)
3. Rondo: Allegro non troppo (D minor → D major) (38:45)
In the video the concerto is performed by pianist Hélène Grimaud and the Southwest German Radio Symphony Orchestra Baden-Baden und Freiburg conducted by Michael Gielen on April 17, 2005.
Piano Concerto No 2 in B flat major, Op 83
This is a monumental work, which I particularly like.
Brahms began work on the piece in 1878 and completed it in 1881 while in Pressbaum near Vienna. The premiere of the concerto was given in Budapest on November 9, 1881, with Brahms as soloist, and was an immediate success. He proceeded to perform the piece in many cities across Europe.
There are four movements, rather than the three typical of concertos in the Classical and Romantic periods:
1. Allegro non troppo (B-flat major)
2. Allegro appassionato (D minor)
3. Andante (B-flat major)
4. Allegretto grazioso (B-flat major)
The additional movement results in a concerto considerably longer than most other concertos written up to that time, with typical performances lasting around 50 minutes.
In this video the concert is played by the Polish pianist Krystian Zimerman. The Vienna Philharmonic Orchestra is conducted by Leonard Bernstein. One passage I especially like is from 10.53 to 11.53. You may like that passage too.
Symphony No. 1 in C minor, Op. 68
Brahms spent at least fourteen years completing this work, whose sketches date from 1854. Brahms himself declared that the symphony, from sketches to finishing touches, took 21 years, from 1855 to 1876. The premiere of this symphony, conducted by the composer's friend Felix Otto Dessoff, occurred on 4 November 1876, in Karlsruhe, then in the Grand Duchy of Baden.
The symphony is in four movements, marked as follows:
1. Un poco sostenuto – Allegro – Meno allegro (C minor, ending in C major)
2. Andante sostenuto (E major)
3. Un poco allegretto e grazioso (A-flat major)
4. Adagio – Più andante – Allegro non troppo, ma con brio – Più allegro (C minor – C major)
In the video the symphony is performed by the hr-Sinfonieorchester (Frankfurt Radio Symphony Orchestra) conducted by Stanisław Skrowaczewski. The concert took place in the Alte Oper Frankfurt on March 22, 2013.
Symphony No. 2 in D major, Op. 73
This was composed in the summer of 1877, during a visit to Pörtschach am Wörthersee, a town in the Austrian province of Carinthia. Its composition was brief in comparison with the fifteen years it took Brahms to complete his First Symphony.
In the Second Symphony, Brahms preserved the structural principles of the classical symphony, in which two lively outer movements frame a slow second movement followed by a short scherzo:
Allegro non troppo (D major) (0:28)
Adagio non troppo (B major) (16:15)
Allegretto grazioso (quasi andantino) (G major) (25:48)
Allegro con spirito (D major) (31:26)
On 9 October 1989, 70,000 people staged a non-violent demonstration calling for more freedom and democracy in the GDR. Thanks to the claim "Peaceful Revolution", initiated by Kurt Masur as one of six prominent citizens of Leipzig, everything proceeded peacefully. That evening, the Gewandhausorchester played under his baton Brahms' Second Symphony at the St. Nicolas Church. The following regular "Monday Demonstrations", which came to be described as the "Peaceful Revolution", became a major milestone on the way to open the Berlin Wall one month later on November the 9th in 1989 and paving the foundations for the reunification of the two German states.
Exactly 20 years later, the Gewandhausorchester and Kurt Masur commemorate the beginning of the German reunification by presenting the same symphony at the same location. The video shows this event.
Symphony No. 3 in F major, Op. 90
This was written in the summer of 1883 at Wiesbaden, nearly six years after he completed his Second Symphony. In the interim Brahms had written some of his greatest works, including the Violin Concerto, two overtures (Tragic Overture and Academic Festival Overture), and the Second Piano Concerto.
The premiere performance was given on 2 December 1883 by the Vienna Philharmonic Orchestra, under the direction of Hans Richter.
The symphony consists of four movements, marked as follows:
1. Allegro con brio (F major), in sonata form.
2. Andante (C major), in a modified sonata form.
3. Poco allegretto (C minor), in ternary form (A B A').
4. Allegro – Un poco sostenuto (F minor – F major), in a modified sonata form.
In the video the symphony is performed by the Orchestra of the University of Music FRANZ LISZT Weimar conducted by Professor Nicolás Pasquet in the Neue Weimarhalle on May 10th, 2012.
Symphony No. 4 in E minor, Op. 98
This last symphony of Brahms is another favorite of mine. It was completed in 1885.
The symphony is divided into four movements with the following tempo markings:
1. Allegro non troppo (E-minor)
2. Andante moderato (E-minor/E-major)
3. Allegro giocoso (C-major)
4. Allegro energico e passionato (E-minor)
A typical performance lasts about 40 minutes.
In the following video the symphony is played by the Danish National Symphony Orchestra (Danish Radio Symfony Orchestra) conducted by Fabio Luisi.
Here is another fine perfomance of the symphony by the Detroit Symphony Orchestra conducted by Leonard Slatkin.
Clarinet Quintet in B minor, Op. 115
This grand clarinet quintet was written in 1891 for the clarinettist Richard Mühlfeld. The piece is known for its autumnal mood. It is composed for a clarinet in A with a string quartet.
There are four movements:
1. Allegro in B minor
2. Adagio in B major
3. Andantino in D major
4. Con moto in B minor
The public premiere was on 12 December 1891 in Berlin. It was soon played across Europe, including London and Vienna.
In this video the Clarinet Quintet is performed by the New Zealand String Quartet with clarinettist James Campbell. The performance took place at Auckland Town Hall, New Zealand, 12 May 2014.
Violin Concerto in D major, Op. 77
This concerto was composed in 1878 and dedicated to Brahms' friend, the violinist Joseph Joachim. It is Brahms's only violin concerto, and, according to Joachim, one of the four great German violin concerti. The Germans have four violin concertos. The greatest, most uncompromising is Beethoven's. The one by Brahms vies with it in seriousness. The richest, the most seductive, was written by Max Bruch. But the most inward, the heart's jewel, is Mendelssohn's.
The concerto has three movements:
Allegro non troppo (D major)
Adagio (F major)
Allegro giocoso, ma non troppo vivace – Poco più presto (D major)
In the video the concerto is performed by violinist Hilary Hahn and the hr-Sinfonieorchester (Frankfurt Radio Symphony Orchestra) conducted by Paavo Järvi.