Felix Mendelssohn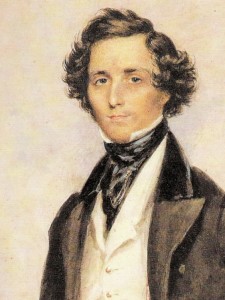 Jakob Ludwig Felix Mendelssohn Bartholdy (3 February 1809 – 4 November 1847) – born and widely known as Felix Mendelssohn – was a German composer, pianist, organist and conductor of the early Romantic period. Mendelssohn wrote symphonies, concerti, oratorios, piano music and chamber music. His best-known works include his Overture and incidental music for A Midsummer Night's Dream, the Italian Symphony, the Scottish Symphony, the overture The Hebrides, his mature Violin Concerto, and his String Octet.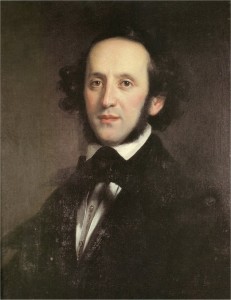 Mendelssohn was the son of a banker, Abraham, who was himself the son of the famous Jewish philosopher, Moses Mendelssohn, and of Lea Salomon, a member of the Itzig family. Abraham sought to renounce the Jewish religion; his children were first brought up without religious education, and were baptised as Lutherans in 1816.
The family moved to Berlin in 1812. His sister Fanny Mendelssohn (later Fanny Hensel), became a well-known pianist and amateur composer; originally Abraham had thought that she, rather than her brother, might be the more musical.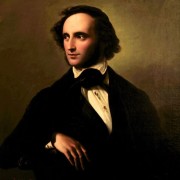 Mendelssohn is often considered the greatest child prodigy after Wolfgang Amadeus Mozart. He began taking piano lessons from his mother when he was six, and at seven was tutored by Marie Bigot in Paris. From 1817 he studied composition with Carl Friedrich Zelter in Berlin. He probably made his first public concert appearance at the age of nine, when he participated in a chamber music concert. He was also a prolific composer as a child, and wrote his first published work, a piano quartet, by the time he was thirteen.
As an adolescent, Felix's works were often performed at home with a private orchestra for the associates of his wealthy parents amongst the intellectual elite of Berlin. Mendelssohn wrote his first twelve symphonies in his early teens (more specifically, from ages twelve to fourteen). These works were ignored for over a century, but are now recorded and heard occasionally in concerts. At fifteen he wrote his first acknowledged symphony for full orchestra, his opus 11 in C minor in 1824. At the age of sixteen he wrote his String Octet in E Flat Major, the first work which showed the full power of his genius, and, together with his overture to Shakespeare's A Midsummer Night's Dream, which he wrote a year later, the best known of his early works. He wrote incidental music for the play in 1842, including the famous Wedding March.
In 1829 Mendelssohn paid his first visit to England, where he was introduced to influential musical circles. Felix had a great success, conducting his First Symphony and playing in public and private concerts. On subsequent visits he met with Queen Victoria and her musical husband Prince Albert, both of whom were great admirers of his music. In the course of ten visits to Britain during his life he won a strong following, and the country inspired two of his most famous works, the Hebrides Overture and the Scottish Symphony (no.3). His oratorio Elijah was premiered in Birmingham on August 26, 1846.
In 1835, he was appointed as conductor of the Gewandhausorchester Leipzig. This appointment was extremely important for him as he felt himself to be a German and wished to play a leading part in his country's musical life. Despite efforts by the king of Prussia to lure him to Berlin, Mendelssohn sought to develop the musical life of Leipzig and in 1843 he founded the Leipzig Conservatory.
Mendelssohn's personal life was conventional. His marriage to Cécile Jeanrenaud in March of 1837 was very happy and the couple had five children. Felix was an accomplished painter in water-colour, and his enormous correspondence shows that he could also be a witty writer (in both German and English – and sometimes accompanied by humorous sketches and cartoons in the text).
Mendelssohn suffered from bad health in the final years of his life, probably aggravated by nervous problems and overwork, and he was greatly distressed by the death of his sister Fanny in May 1847. Felix Mendelssohn died later that same year after a series of strokes, in Leipzig. He is buried in the Dreifaltigkeitsfriedhof (Trinity Cemetery) I in Berlin-Kreuzberg.


–
–
–
–
Symphony No. 3 in A minor, Op. 56
This symphony – known as the "Scottish" – was composed between 1829 and 1842.
It has four movements:
1. Andante con moto — Allegro un poco agitato (A minor)
2. Vivace non troppo (F major)
3. Adagio (A major)
4. Allegro vivacissimo — Allegro maestoso assai (A minor → A major)
In this video the symphony is played by Orquesta Sinfónica de Galicia conducted by Rumon Gamba. The concert took place 21 October 2014 in Palacio de la Ópera de A Coruña, Spain.
Symphony No. 4 in A major, Op. 90
This symphony – known as the "Italian" – was finished in Berlin in 1833 in response to an invitation for a symphony from the London (now Royal) Philharmonic Society. He conducted the first performance himself in London on 13 May 1833 at a London Philharmonic Society concert. It is in four movements:
1. Allegro vivace (A major)
2. Andante con moto (D minor)
3. Con moto moderato (A major)
4. Presto and Finale: Saltarello (A minor)
In the video the symphony is played by Frankfurt Radio Symphony Orchestra conducted by Paavo Järvi. The concert took place 16 Juni 2012 in Alte Oper Frankfurt, Germany.
Violin Concerto in E minor, Op. 64
This is Felix Mendelssohn's last large orchestral work. It forms an important part of the violin repertoire and is one of the most popular and most frequently performed violin concertos of all time.
The concerto consists of three movements:
1. Allegro molto appassionato (E minor)
2. Andante (C major)
3. Allegretto non troppo – Allegro molto vivace (E major)
In the video the concerto is played by the violin virtuoso Hilary Hahn with Frankfurt Radio Symphony Orchestra conducted by Paavo Järvi. The concerto took place 11 June 2012 in Korean Art Centre Concert Hall, Seoul, Korea.
Piano Concerto No. 1 in G minor, Op. 25
This was written in 1830–31, around the same time as his fourth symphony ("Italian"), and premiered in Munich in October 1831.
It has three movements:
1. Molto allegro con fuoco, 2. Andante, 3. Presto—Molto allegro e vivace.
In the video the concerto is performed by pianist Yuja Wang and the Verbier Festival Orchestra conducted by Kurt Masur.
A Midsummer Night's Dream – Overture, Op.21
Performed by Moscow City Symphony "Russian Philharmonic" conducted by Michail Jurowski.